Why Community Responsive Wellness?
Wellness is the harmonizing of mind, body, emotion, and spirit. It is cultivated and sustained through healthy relationships that are responsive to the lived experiences and the historical and material conditions that shape them. Community responsive wellness strengthens the sacred link between self-actualization and community actualization in three domains: Innerself, Interpersonal, Interconnectedness.
3 Domains of Community Responsive Wellness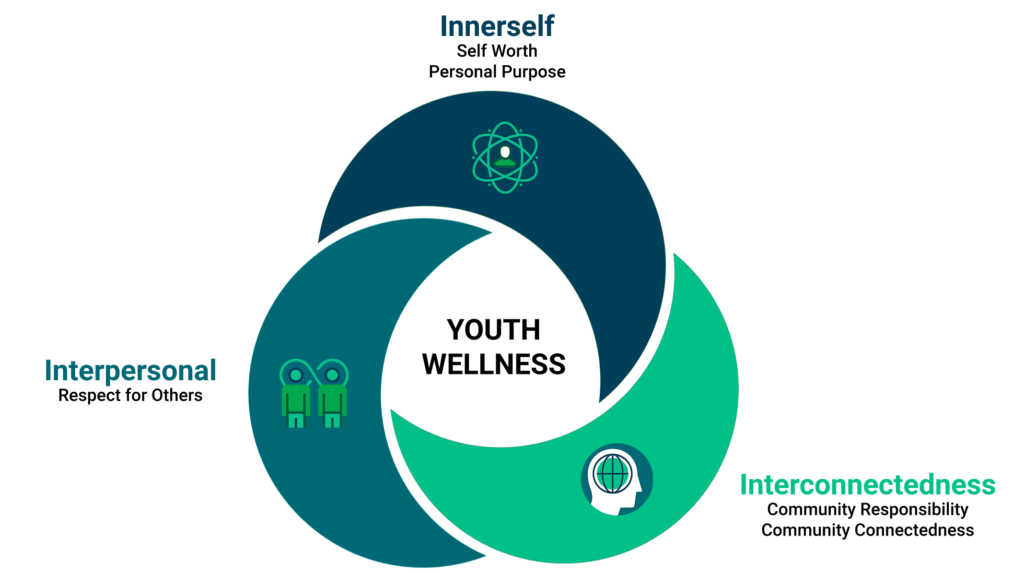 Innerself: A strong sense of culture, identity, and agency. As a community, we root into our sacred purpose by acknowledging our own growth with self-love, physical health, and connect it together with hope.
Interpersonal: A rootedness and commitment to showing empathy toward family, community, and peers. In tending to our love of all people and our community, it is important for us to tend to the spaces between us. We learn to discern empathy and boundaries, and deepen our understanding and practice with respect.
Interconnectedness: Positive interrelatedness to ancestors, place, land, and the natural world. We cultivate collective joy, collective responsibility, and collective resilience through deepening our practice and acknowledging areas of growth with connection and awareness.
(Community Responsive Pedagogy, 2020)
If we seek to grow and develop children that are well, critical, and civically-engaged citizens that understand their value and purpose on the planet, then wellness needs to be the core foundation of what this change is built upon. We can implement youth wellness by following four steps:
Wellness has to be the primary, if not the exclusive priority of schools. Anything short of that commitment, virtually ensures that wellness will be relegated to program/project status and will give way to higher priorities at critical and decisive moments when a focus on wellness is most determinant of student outcomes.
If the commitment is wellness, then what naturally follows is a commitment to developing policy, practice, and people to deliver on that commitment. This requires institutional commitment, beginning with a reorganization of funding and staffing to reflect that level of reorganization.
When youth wellness is committed to and being developed and supported on a daily basis, schools will also need to grapple with the fact that no matter what we do when children are with us, they return to a larger society that places their wellness under attack on a daily basis. Strategy needs to tackle the challenge of sustaining and protecting the wellness of children that are hated and dehumanized in the larger society.
It is a good thing that schools are data driven. But, if what matters is wellness, then we need to measure what matters. Changes in wellness over time are measurable in children, and those measurements should drive how schools understand and adjust their policy, practice, and people to ensure that children have an educational experience that leaves them more well than when they came to us.
Schedule a consulting call with our team. Once we've landed on a scope of work, we set you up to collect data through the Youth Wellness Index:
School Onboarding
Our administrator will coordinate with the partnered school to properly obtain digital ascent and/or consent forms to participate in the survey. Once that is complete, we send the school a welcome email with a unique link for students to take the survey. The link is unique and only identifiable by district, school, and homeroom teacher.
Taking the Survey
Fifteen questions will be presented with the following options and structured to on a qualitative scale from Strongly Disagree to Strongly Agree. Two questions are open answers about wellness. Four questions on age, gender identity, and racial/ethnic identity. Participants may opt not to answer or provide their own written responses.
Analyze and Report
Survey data is fed into the database and upon completion, staff will engage with the school to review results beyond the Wellness Summaries to align with potential professional development recommendations.
Depending on the scope of your contract, strategic planning, professional developments, curriculum design, school summits, and events may be scheduled.
Frequently Asked Questions (FAQ)
How do you plan to collaborate with our school's existing resources and staff?
The Youth Wellness team works with your school or district's staff to take inventory of what current programs, initiatives, or strategies currently exist. It is important to us to identify existing strengths and areas of growth. From there, professional developments or other offerings are tailored based on your school or district's needs.
What's your process for assessing the current state of youth wellness at our school/district?
The surveys conducted in conjunction with your staff and educators center youth voices. Through this data, and through taking inventory of your school/district's existing programs, we assess strengths and areas of growth. Please reach out to our team through the form below to book a free consulting session.
How do you customize your programs for different age groups, such as elementary, middle, and high school students?
The Youth Wellness team has extensive experience working with all age groups, with a strong commitment to equity. Strategic planning, professional development, curriculum development, workshops, programs or other offerings are customized for each school, age group, its demographics, and needs.
Inquiry / Booking (Offerings)
• Strategic Planning, Program Development, Implementation, Evaluation and Measurement Consulting
• Community Responsive Organizational Wellness Program and Curriculum Design 
• Integrative Wellness, Trauma-Informed, Healing-Engaged Teacher and Leadership Professional Development
• In-person and Virtual Workshops, Events, and Programs